Our mission partners are people who have gone out from Emmanuel to serve God in other parts of the world, or to train for mission service elsewhere.
Simon & Sue French
serving in Tanzania with AIM.
Peter Graystone
working for the Diocese of Southwark
Dee Ameyaw
in training for mission at All Nations Christian College.
Ordinands from Emmanuel
in training for ordained ministry elsewhere.
---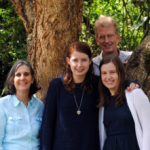 Simon & Sue French
Simon & Sue French went out from Emmanuel in 2004 to serve with Africa Inland Mission (AIM) in Tanzania, where their work was to encourage and enable local Africa Inland Church evangelists and leaders to share God's love with the Datooga and other unreached peoples living in the Lake Eyasi Area of Tanzania.  During 2018 they will be relocating to the UK.
For more information, click www.eu.aimint.org/pray/peopleandplaces/thefrenchs
---
Peter Graystone
Peter Graystone, a long-standing member of Emmanuel, is Assistant Director of Discipleship for the Diocese of Southwark, where he is responsible for enabling lay people to live out their calling as disciples of Christ.
You can follow Peter on Twitter @petergraystone
For more information about Peter's work, go to http://southwark.anglican.org/discipleship-mission-vocation/discipleship-ministry/
---
Dee Ameyaw
Dee Ameyaw is a student at All Nations Christian College, studying Biblical studies and Intercultural studies with a focus on African Culture.  This course is for Dee the first step in responding to God's call to work among African people.
For information about Dee's course, go to www.allnations.ac.uk
---
Ordinands from Emmanuel
We currently two have two people from Emmanuel who are training for ordination.
Alistair Forster recently completed his training at St. Augustine's College of Theology and was ordained deacon at Southwark Cathedral on 30th June 2018. He has now begun his curacy at St. Oswald's, Norbury.
See www.staugustinescollege.ac.uk
Hannah Gordon is undertaking full time church-based ordination training at St. Mellitus' College. Her placement church is St. John's, Shirley, and she will later this year begin the process of aranging a curacy, to follow her ordination in 2019.