Whether you're visiting us on Sunday, at one of our activities, for the first or for the hundredth time this week – we look forward to seeing you!
Please see our What's On page and Calendar for latest information about groups and activities.
---
Getting here
Emmanuel Church is situated on Normanton Road, CR2 7AF. The Emmanuel Centre is opposite the church, on the corner of Normanton Road and Rockhampton Road, CR2 7AQ.
There is no onsite parking in the Church grounds, but plenty of free street parking in the roads around the Church and secured cycle storage outside the Emmanuel Centre.
We are situated in a residential area, so please do be considerate of our neighbours as you park and be aware of the Monday – Friday Healthy School Street zone restrictions as outlined below.
The nearest train station is South Croydon, and the 412, 433 and 64 buses all stop near to the Church.
Facilities
There is a ramped entrance to the right of the Church, and the Church is equipped with a hearing loop and provides an accessible toilet and baby changing facilities. The Emmanuel Centre also has good facilities – with good access via the Rockhampton Road entrance, accessible toilets, baby changing facilities and a lift for those with limited mobility.
---
Heathly School Street Restrictions
(Monday to Friday 8-9.30am & 2-4pm – Term time only)
The Healthy School Street Zone around St Peter's School is now live.

The roads included in the scheme, the parts of which are indicated on the map below are Normanton Road (from Harewood Rd up), Whitmead Close, Rockhampton Road and Elm Close.
The above roads are a pedestrian and cycle zone only between the hours of: 8.00 – 9.30 am and 2.00 – 4.00 pm, Monday to Friday during term time.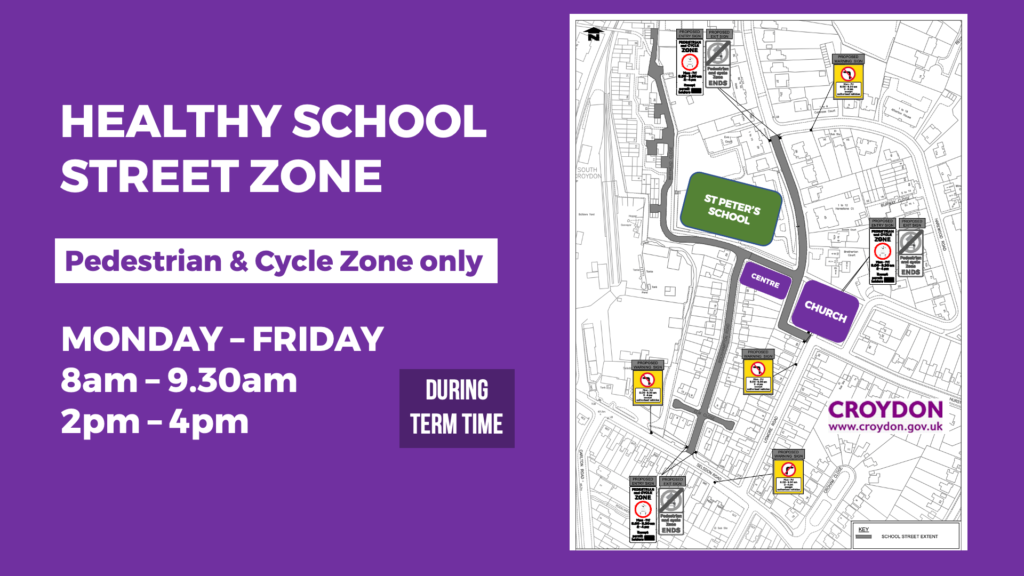 Please note that anyone driving into these areas during these times (unless they have an exemption permit) will receive a penalty charge notice from Croydon Council.