Mayhem is our annual holiday club for all primary aged school children (Reception – Year 6).
Mayhem is a week of fun, laughter, learning about Jesus, singing, dancing, crafts, games, the odd gunging and of course MAYHEM!
And it's not just for the kids, we have a Mayhem Café for parents, grandparents and carers with fresh coffee and homemade cake on offer.
An announcement about Mayhem
We have some news to share with you about our Mayhem holiday club.
We know that Mayhem is an exciting part of the year, we love that so many of you come along and are part of our Mayhem family. Thank you for making it so special, it's the best part of our year!
We think that Mayhem could be even better! Wouldn't it be amazing if Mayhem was not only for you but if we could find a way to have your whole family as a part of our Mayhem family too?
Well, we have come up with an idea……
We are going to invite you and your family to some special Mayhem events. There will be one of these each term which means we will be able to see you more that just once a year & we can't wait.
Here are the things we'd like to invite you too: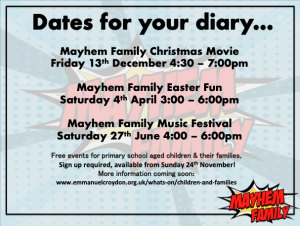 Sign up for our next Mayhem Family event is now open. Come along on Saturday 4th April from 3 – 6pm and join in with the Easter fun for all the family!!
************************************************************************
We also have some other news too. We really hope you won't be disappointed but we have decided that we won't be running our Easter Mayhem holiday club in 2020. We believe that God has some amazing plans for Mayhem & we want to spend some time listening to God and following him. To be able to do this we have to stop & wait.
But don't worry because Mayhem is not gone forever!! We hope that we will be back in 2021. In the meantime we'd love to see you & your family at our other Mayhem events.
Clare & Becky
*******************
WHAT A FABULOUS WEEK!
MEDIEVAL MAYHEM – DAY 1 HIGHLIGHTS
KNIGHT FEVER : THE LOST CROWN : THE GUNGEON
MEDIEVAL MAYHEM – DAY 2 HIGHLIGHTS
DRAGONS : THE LOST JESTER : CATAPULTS
MEDIEVAL MAYHEM – DAY 3 HIGHLIGHTS
JOUSTING : THE LOST PRINCE : BINKY THE HORSE
MEDIEVAL MAYHEM HIGHLIGHTS – DAY 4
STOCKS : THE LOST QUEEN : DOUBLE GUNGING