Five Minute Focus is a way of informing people about some of the amazing activities that go on at Emmanuel and inspiring people to think about what God might be calling them to in their own life.   Each week we will be interviewing inspirational people from our congregation and this page will include some of the highlights from those conversations.  Enjoy!
Week 5 – Carol Petley was interviewed about Waggy Tails.
Tell us about Waggy Tails?  There are 4 main groups of people at Waggy Tails.  The parents love to come along and chat to other parents, the members who come along and train dogs, the buddies who are recruited from local secondary schools and come along to befriend the members and the dog owners who very kindly bring along their dogs and make the whole group very special.
The members can do an obedience class, do a Vet check, play dog pairs or dog bingo, read to a dog and make a memory book or do some agility.
We asked one of the parents to tell us what's the best thing about Waggy Tails, and this is her response:
Hello! I'm Harriet and I'm autistic. I'm mother to a 14 year old autistic daughter – C. We both have Aspergers which sometimes makes it difficult for people to know that we are autistic.
I can't begin to tell you how grateful I am for Waggy Tails. I am grateful every Wednesday that Waggy Tails exists, and I am grateful on all the other days in between too.
Before we joined Waggy Tails, C was struggling with life. She attends mainstream school, and had no friends, high anxiety and was getting bullied so severely that the school was, and still is, keeping her in isolation for her own safety. She was receiving absolutely no support for her autism, and couldn't handle the noisy classrooms, the lunch time queues, children jostling her in the corridors, the comments that the other girls made, and she was fraught with anxiety all the time.
We joined Waggy Tails in January 2019 and C loved it from the start. It was the first time that she has been to a place where she didn't have to mask her symptoms. It was the first time that she had found a place where she could fit in without being judged. C feels safe at Waggy Tails. There is no way that I can articulate how much difference it makes to a child to have a 'safe place' to go. It has been an absolute lifeline for us.
I'm pleased to say that school has improved slightly for C, but Waggy Tails is still the highlight of C's week. She often says to me, "I can get through school today, because I know I have Waggy Tails at the end".
I can't thank Carol and Sarah enough for the hard work they put into Waggy Tails. Not only do they find and screen dogs and owners, they organise the weekly sessions, they make the children feel welcome, and they find teenagers who are willing to volunteer as "buddies".
I can't even get teenagers to work for money, but they get teenagers to work for free.
The buddies are the same age, and they become friends to the children, and for girls like my daughter, who are desperate to have a friend, it is invaluable.
At Waggy Tails, they also think about the parents. Whilst C is downstairs, I get to relax on the sofa, and the lovely Chao makes me the best coffee. For one hour, I get to sit and chat to the most amazing group of women that I could ever have hoped to meet. We chat about our children, we compare disability services, we talk about sex, drugs and rock 'n' roll. That's a lie. We haven't ever talked about drugs or rock 'n' roll.
We support each other. If we've had a rough day or rough week or rough year, then we know we have our own safe space to offload. It's like therapy.
Where have you seen God at work?  When Jesus walked on earth, He hung out with people who found life difficult. We have lots of people who find life difficult at WTs and Jesus loves each one. I remember an older member who couldn't speak when he first joined us. I would sign to him and he would sign back. After a few months he had grown hugely in confidence and started initiating conversations with me and with others on the team. It was fabulous to see.
What inspired you to start Waggy Tails?   My daughter has epilepsy and learning disabilities and her life completely changed when we bought our first dog. I saw first-hand how a dog could change someone's life. Waggy Tails is unique dog club because the members don't need to own their own dog to be able to come.
Week 4 – Simon French was interviewed about his voluntary work with West Croydon Refugee Centre
Tell us a little about your work locally with refugees?  I have been volunteering at the West Croydon Refugee Centre on a Tuesday morning, I am also part of a group from the Centre who visit people who have recently arrived in the UK and live in temporary accommodation. One afternoon a week I teach English at a men's English class at St Augustine's Church.
What do you like about this work?  I like being part of peoples' welcome to the UK, hearing a little of their life stories and helping them adjust to their life in a new country.   I often have the opportunity to talk to them about my faith in response to questions they ask me.
Where have you seen God at work?  God is bringing people from many different nations to Croydon, including in some cases, people who may have never met Christians before.   It is exciting to see how needs are met and how Christians are involved in this work.
What inspired you to get involved?   We lived overseas for a number of years and at times, we experienced what it can feel like to be living somewhere where you are unfamiliar with the local culture and language. Hopefully those experiences have given me an insight into how people arriving in this country may be feeling as they settle into a new country and learn a new language.
Week 3 – Pam Topley was interviewed about RESPITE
Tell us a bit about Respite:  As we get older we all suffer from a certain amount of memory loss. For some this is more serious than for others. Respite group is for people who do suffer from memory loss, which is helped enormously by singing, and their carers. Respite meets once a month on a Monday afternoon for singing and afternoon tea the old fashioned way! We have between 15 and 30 people attending each time.
What inspired you to set up Respite?  When my husband Fred began to suffer a bit of memory loss I found that he was a different person after choir practice. I chatted with a friend at church one day whose husband was also experiencing something similar. We decided that singing was the thing and got a small group together in our homes which met to sing together, but before we knew it, more and more people wanted to come along and so we started to use the Watney Room here in church. We now have people from other churches and the local community who all join in.
What's the best thing about Respite?  Two things. The first is that we have people who come who struggle to communicate in everyday life, but who come alive when the singing starts and are able to really enjoy themselves. The second thing is that it's a wonderful place for the carers to come and relax for an hour or so with other people in similar situations.
Where have you seen God at work?  So many ways! It's been amazing to see people start singing after many years, and even playing the piano. Some people love singing old hymns from their childhood, even if they haven't been to church for many years. Respite is a lovely way of showing people how much God loves and cares for them.
Week 2 – Natasha Burt was interviewed about SELAM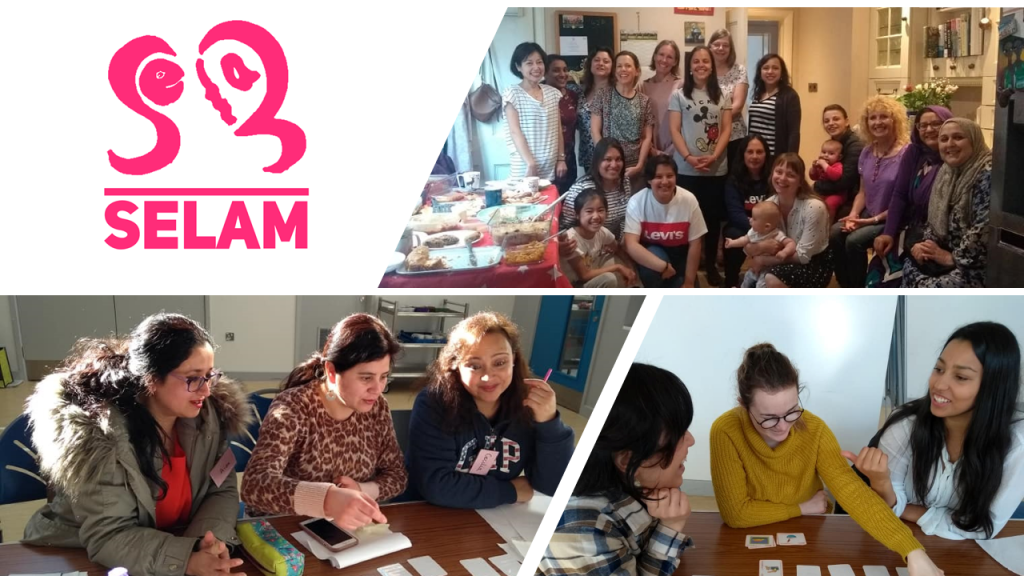 Tell us about Selam?   Selam is an acronym standing for Speaking English, Learning and Meeting, as well as being an international word of greeting.  It is an English Language class for women.  Classes run three mornings a week, Tuesday and Thursday classes take place at Emmanuel, and Wednesday classes take place at West Croydon Baptist Church as part of the Refugee Day Centre. There are three levels of class, as well as a literacy class.  We get between 25 – 30 women each time.  We also run a crèche which means that women are able to attend who otherwise are confined to the house.
What's the best thing about Selam?  Selam is an amazingly rich class.  The fact that we are women-only means that we are able to attract women from all walks of life – women from cultures which do not encourage association with men, to women who are vulnerable and need to feel safe.  The social aspect of Selam is just as important to us as the learning aspect, and it is a joy to see women becoming friends.  We love to eat together and to find out each other's stories, and our Christmas and summer parties are a huge feature of our year.  It is also wonderful to see such a variety of backgrounds coming together – from wives of Japanese businessmen to women who have been trafficked and are now living in refuges.  We absolutely love to see our women grow in confidence as their English improves.  One Sri Lankan girl told us she had the confidence to volunteer to help on a school trip, and one Pakistani girl has gone on to take a course to become a Teaching Assistant.  These are examples of the good that we can see come out of the class.
Where have you seen God at work?  We see God at work all the time.  The team meet to pray together every week and we have seen some wonderful answers to prayer.  We are open about our Christian faith and have had an amazing opportunity to share stories like the Easter story with women from backgrounds as diverse as Afghanistan and Bangladesh who might otherwise never have heard about Jesus.  We have also run a Bible study which encourages questions and conversations on a deeper level.  It's also been wonderful to see women join our team and then grow in confidence as they walk alongside our students.  We also love to pray with our students if they are going through tough times and they are amazingly open to this.
What inspired you to get involved?  For me personally (Natasha), I moved back here from Ethiopia in 2011 and felt very lost for a year or so as I tried to work out how I could continue working as a teacher among internationals.  God was amazing in bringing me together with Rachel Webster and together we took TEFL-training courses and set up Selam, in response to the need that we saw in our local area, as well as feeling inspired by our backgrounds of living in other cultures and understanding how hard it is to do so.
How could people get involved?  We always, always need help at Selam.  The crèche is one area that is constantly crying out on ECUG!  We usually get 10 – 12 children and they are lively!! But we also welcome anyone who would like to help volunteer in the classes.  The only requirement is that you are female and can speak English!
Week 1 – Sarah Wadsorth was interviewed about LIGHTHOUSE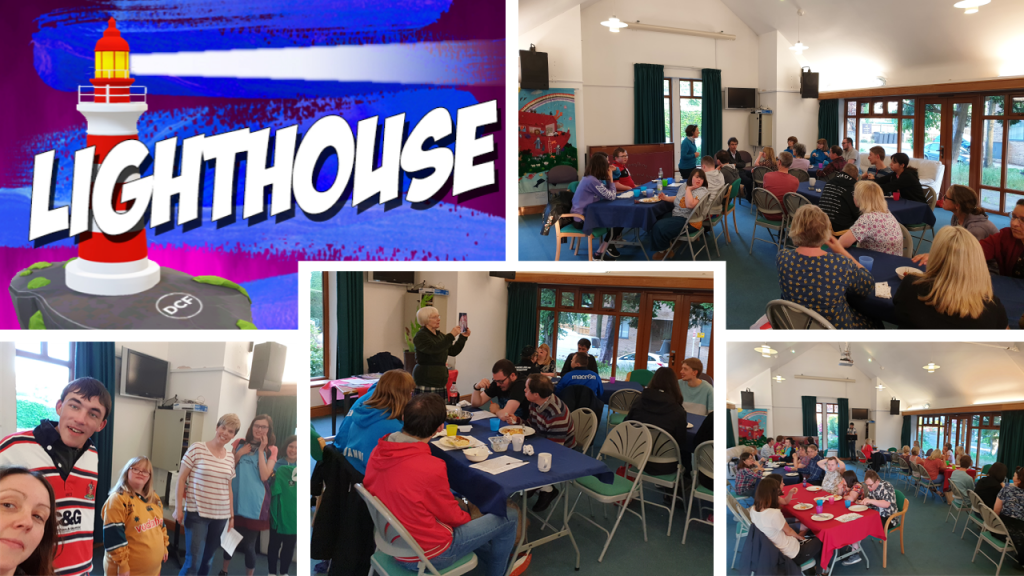 Tell us about Lighthouse.  Lighthouse is a group for young adults with additional needs and their parents/carers. We meet Wednesday evenings during term time in the Watney room. We have just celebrated our first birthday and have on average 30 people attending plus helpers. It was founded as a follow-on group for young adults leaving Waggy Tales and having no outlet.
What's the best thing about Lighthouse?  The atmosphere! It has a really lovely community feel and we have fun, enjoy a meal together and learn about God.
Where have you seen God at work?   Everywhere! Especially in the prayers and answers to prayers, members are curious about Jesus and want to learn more, a few members have started attending some of our church services here and everyone has been given a suitable bible for their birthday this first year. One of our members volunteered to help with Mayhem so were really building a god focused community.
What inspired you to get involved?   God! I've been involved with the Croydon branch of the Disabled Christian fellowship (DCF) since 2007 and became chair a few years ago, the established group meet every 6 weeks on a Saturday and have lunch together, I'm the youngest who attends if you want an idea of the demographic. The Charity Through the roof, which founded DCF set up a Roofbreaker day last April to help churches become more inclusive which I attended with Carol Petley and after some prayer and deliberation Lighthousewas the outcome. Funding was secured last summer, and we launched September.
How could people get involved?  Are you musical or craft orientated? We are always looking for speakers and activities to do, our God slot is 5 to 10 minutes and ideally as interactive as possible. We are also looking for people to join the cooking and serving rota so if you could spare an hour or so once a term that would be wonderful  You are also welcome to come along and experience Lighthouse for yourself.