As we begin Lent we encourage everyone to create some time and space to join our week of prayer from Sunday 10th – Saturday 16th March 2019. To help you there will be a selection of opportunities available for you: pray in church, walk a labyrinth, join in communal prayer, pray on your own and fasting.  More details are available below – fliers are available from church.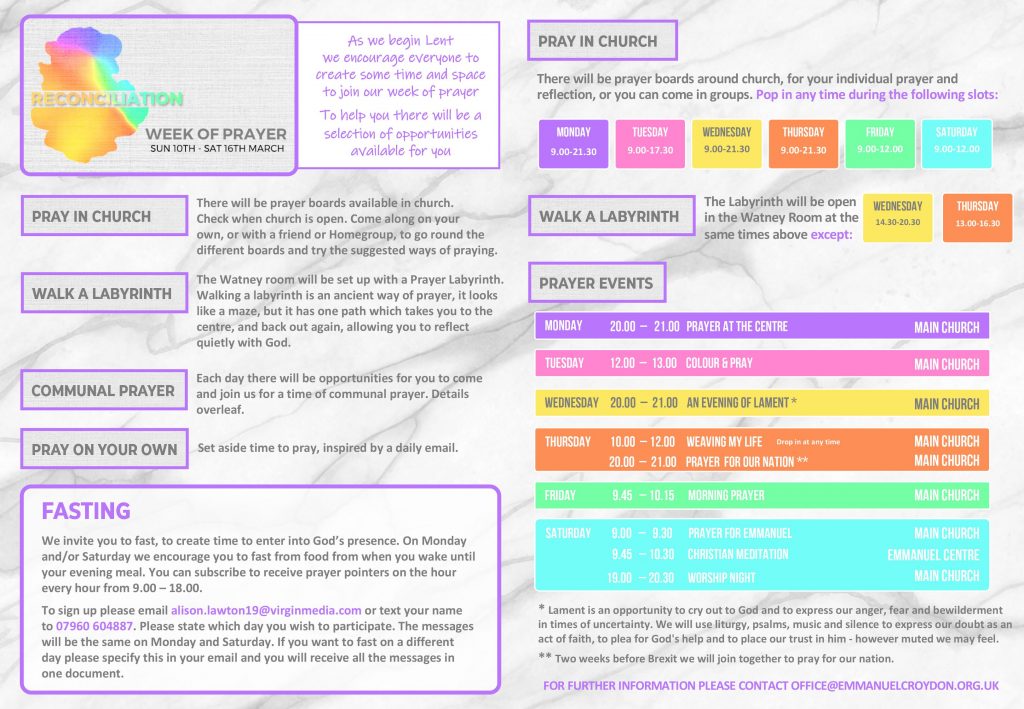 Special opportunities to look out for include:
Prayer at the Centre – everything we do as a church is done in partnership with God with prayer at the centre.  Join us in the Emmanuel Centre to pray about our life, ministry and mission.  This term's Prayer at the Centre will be held in the church on Monday 8-9pm.
Day of prayer and fasting – fasting involves voluntarily giving up something that we normally consume, showing Jesus that we love him more than our own comfort. Fasting connects us with God and gives strength to our prayers.  Fasting is usually linked to food – but if this is inappropriate you can choose seomthing else: social media, your phone, speaking, watching TV.  Our communal fast days will be Monday 10th and Saturday 16th.  If you would like to receive an hourly message during the day (9am-6pm) contact Alison Lawton (07960 604887 or alison.lawton19@virginmedia.com).
Colour and pray – join others in the to colour and pray together on Tuesday 12-1pm.
Lament service – lament is an opportunity to cry out to God and to express our anger, fear and bewilderment in times of uncertainty.  We will use liturgy, psalms, music and silence to express our doubt as an act of faith, to plea for God's help and to place our trust in him – however muted we may feel.  Join us on Wednesday 8-9pm in the chancel.
Weaving my life – drop in at anytime between 10-12noon on Thursday.
Pray for our nation – two weeks before Brexit we will join together to pray for our nation on Thursday 8-9pm in the chancel.
Morning Prayer – similar to our regular Evening Prayer services, but in the morning!  A great way to start the day – please join us on Friday 9.45-10.15am for a time of stillness, liturgy, prayer and silence.  A wonderful time and space to relax before the weekend.
Pray for Emmanuel – did you know that a small group meets every Saturday morning 9-9.30am to pray for Emmanuel?  This week they will meet in the church – they would love you to join them.
Worship Night – to conclude our Week Of Prayer we're going to dedicate an evening to pursuing the presence of God through worship and prayer. We want to create a space where we can really wait on and rest in his presence. The prayer stations will still be set up in the church so there's the opportunity to make use of those as well as sing and pray together. It's not often that we get the chance to really leave space in our worship and let the Holy Spirit lead us where he wants to go so I really encourage you to come along. You really will be glad you did! Acoustic guitar, keys, cello and voices – simple, raw, uninterrupted worship.  Saturday 7-8.30pm in the church.
Pray in church – the church will be open throughout the week offering space & prompts to pray: come along on your own, with friends, with your homegroup?  See the flier for times each day or just pop in.
Prayer Labyrinth – a labyrinth is a geometrically designed walking path leading to and from a central point.  Walking a labyrinith is an ancient way of prayer – reflect quietly with God as you walk and pray.   The labyrinth will be setup in the Watney Room throughout the week.
If you have any suggestions for activities to include in future weeks of Prayer, or if you would like to be involved do let us know.