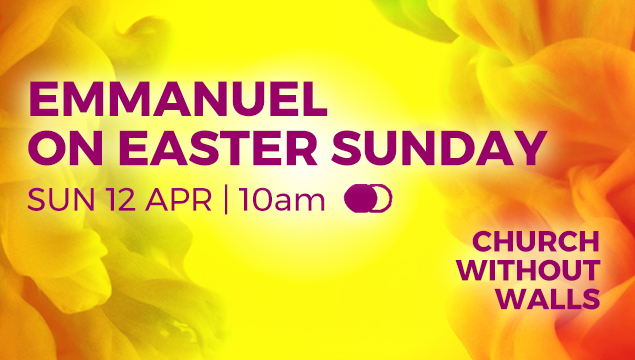 Dear Emmanuel,
ONLINE SERVICE AT 10 AM
Please join us tomorrow at 10am for our online Easter Sunday service to celebrate the resurrection of Christ and all that means for us and our world. The good news of Easter is more important now than ever!
This Sunday we bring to you an online service with Ben Jones, Stuart Burke, Simon Smith and Ninma Sheshi.

Although they are all participating from their homes, we can watch the beautifully edited and put together podcast thanks to our video editors Rachel Chrystie and Ben Cooke.
WHAT YOU NEED TO KNOW:

1. Bible reading for this week is Luke 24:1-12:
On the first day of the week, very early in the morning, the women took the spices they had prepared and went to the tomb. They found the stone rolled away from the tomb, but when they entered, they did not find the body of the Lord Jesus. While they were wondering about this, suddenly two men in clothes that gleamed like lightning stood beside them. In their fright the women bowed down with their faces to the ground, but the men said to them, "Why do you look for the living among the dead? He is not here; he has risen! Remember how he told you, while he was still with you in Galilee: 'The Son of Man must be delivered over to the hands of sinners, be crucified and on the third day be raised again.' " Then they remembered his words.
When they came back from the tomb, they told all these things to the Eleven and to all the others. It was Mary Magdalene, Joanna, Mary the mother of James, and the others with them who told this to the apostles. But they did not believe the women, because their words seemed to them like nonsense. Peter, however, got up and ran to the tomb. Bending over, he saw the strips of linen lying by themselves, and he went away, wondering to himself what had happened.
2. All songs lyrics and liturgy will be on screen, but if you would rather print them out, they are attached below. Also attached are chords charts for musicians.
Song Book For April 12, 2020 LYRICS.pdf
Song Book For April 12, 2020 CHORDS.pdf
HOW TO WATCH AND JOIN IN
If you need some instructions on how to join our service CLICK HERE.
AUTOMATIC SUBTITLES IN YOUTUBEBelow we have attached instructions if you would like to add subtitles over the video.
How to Turn On YouTube Subtitles
DON'T FORGET…
Peter Graystone will be broadcasting a special Easter Sunday podcast, which will be available for you straight after 10am service on our YouTube channel; click here to access.
We really hope you enjoy our online service tomorrow. See you there!
God bless,
Emmanuel Team